[July 26, 2006]
Mark Valley - "Live!"
Mark Valley will star alongside Eva Mendes ("Hitch") and David Krumholtz ("Numb3rs") in the indie film "Live!," Production Weekly reports. The film will center on a documentary film crew that will follow an ambitious woman who attempts to create a highly-controversial reality TV show in which contestants compete for $5 million by playing Russian Roulette on the air. Documentary filmmaker Bill Guttentag, who won an Academy Award for the 2003 documentary "Twin Towers," will helm his first fiction film with "Live!" Shooting began in June in Los Angeles.

[May 10, 2006]
Boston Legal: "Spring Fever"
From "Spring Fever" [2x26 airdate May 16, season finale]:
Brad Chase: She's on anti-depressants. I had no idea. I thought we were close. Suddenly we're "Ordinary People."
Denise Bauer: You're holiday close.
Brad: Holiday close.
Denise: You get together for all the biggies, Christmas, Easter, share a lot of laughs. Old stories, there's something really comforting about it. But those small pauses in between the jokes, that's where things like "Hannah's got clinical depression' hang out. And how do you share something like that? It's Hannah's private business.
Brad: Not anymore. It's like we've been strangers for years.
Denise: Do they know everything about you?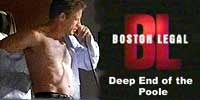 Watch the preview for "Deep End of the Poole" (:40) Airdate: May 2, 2006

[April 28, 2006]
Boston Legal Renewed
TVGuide.com | Ausiello Report
April 28, 6:40pm - You read it here first: ABC has renewed Boston Legal for a 22-episode third season. The network wouldn't comment, but my spies say it's a done deal.



[April 26, 2006]
By popular demand, images from Boston Legal's "Race Ipsa".
>> images 1 2 3 4 5 6
Brad: I just prefer that everything takes place in her mouth.
Denise: This is why you are the worst kisser in the history of the planet. So drop the Homeland Security and let the girls tongue in.
>> Race Ipsa discussion in forum >> Race Ipsa images


[April 25, 2006]
It's Daytime Emmy season, so we're looking back a decade to see Mark at the event, nominated for Best Actor and forced into performing a running gag skit. [Thanks to Romy for the clip]
>> video [2:31]
>> images 1 2 3 4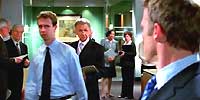 If you watched Boston Legal "Ivan the Incorrigible", then you know exactly what preceded this moment. Watch video clips from this ep, including the Brad Chase storyline >> video [21 min.]

[April 19, 2006]
Ausiello mentions Mark
TVGuide does a pretty good job being blind to Boston Legal, but does tend to pop up with Mark's name now and again. From the April 12 Ask Ausiello column:
Question: Don't hear much about Denny Crane and his merry band of Boston Legal loonies from you. — Tom
Ausiello: Haven't had much to say till now. It appears Mark Valley will finally get a juicy story line in May when his teenage niece gets arrested for murder and Uncle Brad takes the case. In addition to the niece, the show is also casting the role of Brad's sister.


A Fistful of Mercenaries : a ficlet inspired by the word fortune
Zovko took out a pack of cigarettes and offered me one. "Thank you, no." I poured the rest of the bottled water into my glass and watched the 5 o'clock crowd hustle past our outdoor table at the café next to the firms building.
"Right. Corporate guy. Don't smoke, drink Pellegrino, golf on Saturdays… "
"No – but we, of course, practice other native vices." Vices 180 degrees from the ones we'd practiced together in '91 in Kuwait City.
>> read more

[April 5, 2006]
Brad has relations
In "Deep End of the Poole" [Boston Legal 2x24 airdate May 2] Brad's relations are of an intimate nature - with a collegue. In "Spring Fever" [2x26 airdate May 16, season finale], his relations are a niece in desperate need of his legal skills.
>> episode spoilers in our forum

[March 23, 2006]
Mark appears in "Living in TV Land: William Shatner in Concert". He shares his thoughts on working with a legend. [vid & images coming]

[Mark as Brad in Boston Legals' "Chitty Chitty Bang Bang" [02x20]




[March 16, 2006]
Thanks to LJAlan for creating these three motivational posters for LJBrad. See below for more.
> Large 'Sovereignty'
> Large 'Torture'
> Large 'Lumberjack'


[March 9, 2006]
Bill looked over at me and he goes, "Energize"
The dvd is now on sale for The Museum of Television & Radio's 2005 William S. Paley Television Festival Boston Legal Panel.
See images and quotes in our forum.
Mark Valley: I was a little daunted today. I think one day we're working, Candice was there, and Bill was there, and Shelly Long was there. These are the people that... You know and Betty...
William Shatner: Don't say you grew up with them.
Mark Valley: These are all shows my parents would tell me about.


Brad's not getting his nightcap
"Race Ipsa" [Boston Legal, 2x23, airdate: April 25]. In this episode, Brad's date with Sandy doesn't end how he wants it to and for a reason that is, frankly, unbelievable. My lips are sealed, although Brad's weren't.
Brad: "Wait. Look, I don't mean to be too pushy but... our last date, we kissed and tonight went well I thought and... am I missing something?"
>> toying with you

"I think I have to end it." [Brad to Denise]
"Ivan the Incorrigible" [Boston Legal, 2x22, airdate: April 18] has a significant Brad storyline. Brad's attracted to Audrey, a new paralegal, but after asking her on a date, discovers an insurmountable quirk he just can't overcome. There's a Sinead O'Connor song [a singer Mark once said he liked], slow motion, longing... and an item. And that's all we're saying. >> episode spoilers, but not really


Mark Valley on DVD
Amazon & IMDb have collected all Valley's available work on DVD.

[February 14, 2006]
Brad Defends Alcove Games
Boston Legal's "Word Salad Day" [2x21, March 28] has Mark's Brad Chase defending his friend from Annapolis [slighly skewing the fact that in "Smile" it's stated Brad went to West Point] whom he's known for 20 years and is CEO of Alcove Game and is being sued for wrongful death from a video game. As Lewiston puts it, "Five hundred and two million. [his friends quarterly profit]. You've landed your first whale."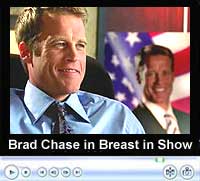 Watch Brad Chase scenes from Boston Legal's "Breast in Show" (7:04) Airdate: February 7, 2006 / wm stream; no downloads
>> Alan, Brad and the State of the Union [ad hoc rpg]



[January 30, 2006]
Backstage at SAG: Real life and an extra guest
Associated Press/MSNBC.com
[excerpt] Another awards-show virgin, Mark Valley was equally thrilled, especially when he found himself standing right next to George Clooney. "I'm used to just sitting in my house in Venice," said Valley, from "Boston Legal".




"SuperBrad!" from Boston Legal 2x9 "Gone" / Thanks to SueB for creating this icon.

Who's playing Kennedy in Bobby?
[Correction] Unfortunately, not Mark Valley. We apologize for reporting this. IMDb has updated their 'Bobby' movie page and it no longer reflects his involvement.

[January 26, 2006]
Season Three? Another year of Brad
Update on the earlier unsubstantiated report that Boston Legal has been picked up for a third season (2006-2007). I've heard from both David E. Kelley Productions [Stacy Luchs] and ABC [Harry Linn] that no deal has yet been reached. Still, channel those positive thoughts.

Emily, episode two
Good News: Mark Valley did indeed film a second episode of "Emily's Reasons Why Not". The brief 'falling off the karaoke stage into his arms' clip in the ABC promos didn't lie. Bad News: No more "Emily". Episode 2 - "Why Not To Cheat On Your Best Friend" - and the series was shelved. C'mon. What kind of a chance is one thirty min. episode, anyway? [We will post the promo so everyone can see... what we won't see].

[January 22, 2006]

Mark Valley Masters Law
TV-Now.com by Tony Bray
[excerpt] Tony: Have you got anything on the burner that interests you?
Mark: I'm doing some research on Rudy Vallee because I have this hair-brained idea of putting on a one man show, trying to play him or something. >> read more >> pdf


[January 6, 2006]

ABC's "Emily's Reasons Why Not"
Don't miss Mark Valley's guest appearance January 9 on "Emily" [see video clip further down this page]. Boston Herald's review by Amy Amatangelo doesn't care for the show, but holds Mark up as the one favorable element.
"A total waste of Mark Valley: Valley guest stars as Emily's jerky ex-boyfriend Reese. It's bad enough Valley isn't utilized on ABC's "Boston Legal." He doesn't need to be here. Did he do something to ABC we don't know about?" >> read more
[Amy also writes for Zap2it.com and frequently mentions Mark's work favorably in her columns.]



Mark nominated for a SAG Award
Mark Valley was nominated, with the cast of Boston Legal, for Outstanding Performance by an Ensemble in a Comedy Series for the 12th Annual Screen Actors Guild Awards. Look for him during the live simulcast for the ceremony Sunday, Jan. 29, 2006, at the Los Angeles Shrine Exposition Center on TNT and TBS, 8 pm ET/PT, 7 CT, 6 MT. >> SAGAwards.com | CNN | Press Release

[December 27, 2005]
The year in television
The Virginian-Pilot
[excerpt] Television in 2005 gave us images of the real-life and the make-believe outrageous. Attorney Brad Chase, played by Mark Valley, used an ax to chop three fingers off the right hand of the Rev. Michael Ryan, played by Richard Fancy, in "Boston Legal" on ABC.


Happy Birthday, Mark Valley [December 24, 2005]

Matt Roush / TV Guide
Reader Comment: "It was good to see Mark Valley actually get some airtime on the December 6 episode of Boston Legal. He's a very good actor who hasn't had much to do. Having showed his talent in a terrific show that didn't make it-- Keen Eddie--this actor deserves to have a lot more to do on this series." --Lloyd Kay, Clyde, N.C.
Roush: "Hear, hear. Spin-off, anyone?" --MR


[December 8, 2005]
There was something familiar about the cat and finger scene in Boston Legal's "Gone" episode. Watch this Keen Eddie segment from "Keeping Up Appearances" and I think you'll understand. Watch Keen Eddie "Keeping Up Appearances"; (2:17) wm stream; 340 bitrate / no downloads
Screen images 1 2 3 4 5

[November 22, 2005]
People Magazine names Mark Valley "TV's Sexiest Lawyer" [image]


[September 28, 2005]


Watch "I'm not the FBI" clip (3:46) / Boston Legal: The Black Widow /| Brad "Shore" Chase technically skirts misrepresentation in order to shut down a website defaming his client. / wm stream; 340 bitrate / no downloads

[September 5, 2005]
Mark Valley Moonlighting
ABC's "Emily's Reasons Why Not" stars Heather Graham. Emily has a relationship with Reese (Mark), a roguishly handsome, two-timing, baseball player/author. Polar opposite of Brad Chase. Watch 'Emily's Reasons Why Not' promo clip 340 bitrate; wm stream/no downloads (1:46)


[September 4, 2005]
"Once and Again" released on DVD
Mark's 4-episode appearance as Will Gluck is now available. Watch scene's from "Love's Laborer's Lost" [episode 2:10] Listen to the mp3 audio from all his scenes in "Forgive Us Our Trespasses" [episode 2x17]

---
Website development in progress
| notes from the trenches | old school page |

There is no connection between this site and Mark Valley. This is simply a fan site that will contain news about his career - past, present and future - and a portfolio of his work in video, audio and images. It will not contain personal information. We respect the privacy of all individuals.

f o r e s t | r a i n | s t u d i o s © 2004-2006 about dana / contact the site